Dr Kothari's Eye Hospital is dedicated to the protection, preservation and restoration of vision for children, who have a world to discover and explore, as well as for adults, who desire to live independently and with dignity, at any age. Patients always come first . We respect the trust you place in us each day and offer you our very best through a singular vision of excellence in healthcare, education and innovative research. Dr Kothari's Eye Hospital is the most experienced and well known super-speciality eye care hospital in the city. It covers everything, from maintaining optimum vision, preventing deterioration to correcting vision-related problems. It covers everything, from maintaining optimum vision, preventing deterioration to correcting vision related problems. All this through our exceptional array of preventive and corrective procedures and cutting-edge practices.
We are one of the very few hospital with all the specialties of eye care under one roof making cross consultation easy and seamless. All eye disorders including the most complicated ones are treated here with utmost precision & good success rate. Dr Kothari's Eye Hospital has cutting-edge facilities both for basic and advanced diagnostic tests and surgeries. The hospital ensures best quality total eye care for all the patients and is one of the pioneers for introducing the latest technologies for eye care.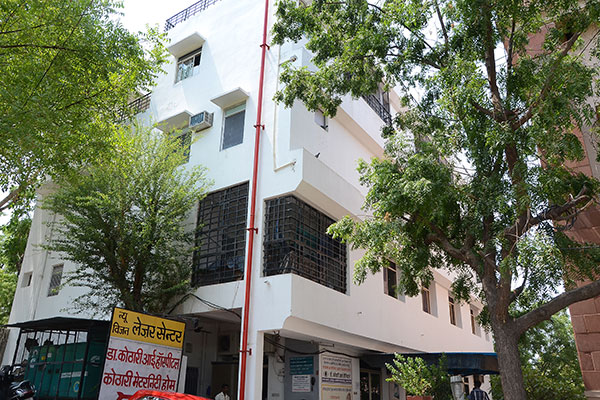 ---
---
Why Choose Us
We are two generation of eye doctors treating four generations of patients.
Kothari eye hospital has helped thousands of patients with a variety of eye problems.
All specialities like Cataract, Glaucoma, Retina etc with the latest equipments are offered under one roof.
On the panel of all the Insurance Companies & prominent Third Party Assurers (TPA).
We are recognised by the government of Rajasthan for the treatment of government employees and pensioners.
---
Our Trust
Vision Foundation Trust is a charitable trust founded by Dr Anil Kothari under the aegis of Dr Kotharis's Eye Hospital in the year 2007.
Main Objectives of Trust
Service to the poor/ deserving persons.
Spread of Education.
Medical service including organizing free Eye Camps, school screening or any other mean of eradicating blindness.
To organize Screening eye camps in remote villages and select patients requiring surgical and medical treatment and to provide the same at free of cost at Dr Kothari's Eye Hospital.
Strategies/Methodology
Organize screening camps in selected remote villages every month.
Eye Specialist accompanied with trained staff visits and select cases for surgery and patients requiring medical treatment in hospital.
Transportation is arrange by trust to the base hospital.
Cases are managed accordingly and those requiring surgery are operated free of cost.
Food and Medicines are provided by trust.
Transport is arranged to drop the patients back to their respective villages.
Everything is done free of cost by trust.
We try to attain a target of 1000 or more free surgeries every year.
---
We are Affiliated to